System requirements
VideoXT was developed so that it can run stable even on low computers.

Operating systems:
Microsoft® Windows® 10 (32bit and 64bit)
Microsoft® Windows® 8 (32bit and 64bit)
Microsoft® Windows® 7 (32bit and 64bit)
Microsoft® Windows® Vista® (32bit and 64bit)
Microsoft® Windows® XP (32bit)
Macintosh with Windows (dual system)
MacOS with Windows emulation
Linux with Windows emulation

Hardware:
Processor min. 1 GHz
Minimum 512 MB of RAM
Screen resolution of min. 1024 x 768
At least 20 MB of available hard disk space for program files
Sound Card

You are reminded that TABLET-PCs with windows RTL allow only APPS installation.
If you want to use VideoXT with a TABLET-PC, you will need a full-installed windows version.
Install / Uninstall VideoXT
Run the setup program and follow the installation instructions. VideoXT doesn't write entries in the registry and does not install any files in other folders. All the necessary files are located in the installation folder. VideoXT doesn't change any files in your system.

VideoXT doesn't require internet access.

After uninstalling, VideoXT leaves no trace on your computer.
You can "remove VideoXT" by using the menu item or just delete the installation folder.
First start

Please enter your password and click "Register".
If you do not have a password, please send us the identification and the serial-number by e-mail.
or
click the button "Online password request".
The program generates an HTML file that you can use for registration.

After verification by the receipt of payment, you will receive your password via email.

Until you get your password, you can test the software by clicking on
"Try VideoXT".
Working with VideoXT (Functions and control)
VideoXT is simple and intuitive. Only a few clicks are necessary for the initial training. We attach a great importance to a simple and clear navigation for the design of our solutions.


All buttons have a "hint" in form of an info bubble. This shows you the function of the button.

If you are familiar with the functions of VideoXT, then you can also turn off the info bubbles.

A variety of settings allows you to configure VideoXT personally:
Playback speed, automatic screenshots, toolbars and more can be adjusted according to your needs.

You can change and adjust the appearance of VideoXT whenever you like. VideoXT includes a lot of different designs.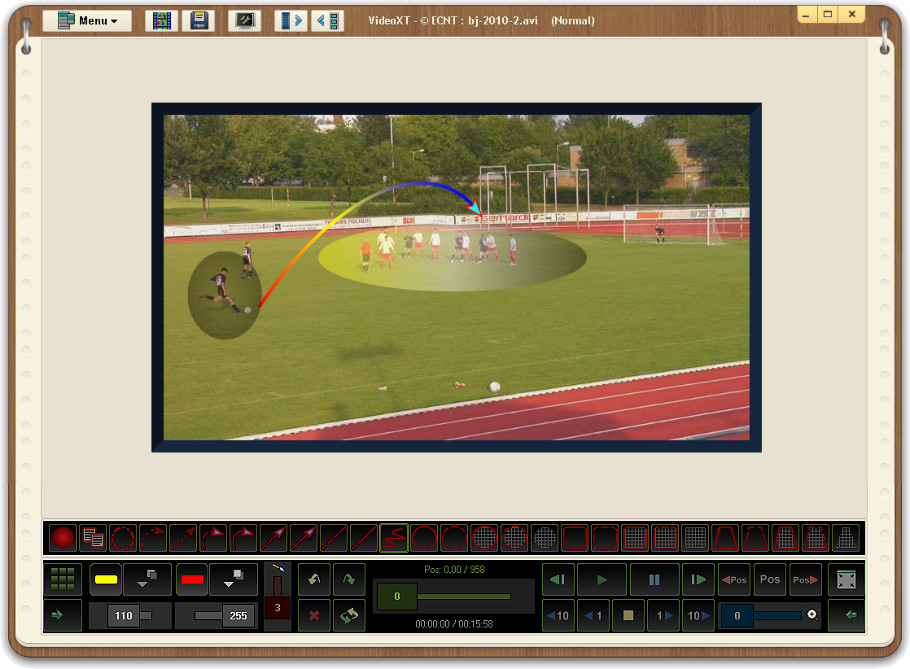 VideoXT was configured for those users who only want to work with a touch screen, mouse, pen mouse or graphics tablet. They can get along from the start to the end of the analysis without any keyboard. The large buttons make it easier to work with touch screens and Windows tablets.

If you prefer to work with the keyboard, we have integrated the most important functions as shortcuts.

Using the menu, you can change almost all settings quickly. Some options which are rarely used, can be found in the settings window.


| | |
| --- | --- |
| | VideoXT always starts with the simple toolbar. This button allows you to show or to hide the large toolbar. |
The large toolbar (VideoXT Ultra)


Drawing tools are, as in the simplified toolbar, selected with a click. You can move the bar anytime with the mouse to the left or to the right.

Please note: The amount of drawing tools is not the same in all editions.


The objects are placed by dragging and dropping on the video. There you can move and customize them. To remove an object, you can either pull it out of the video or press the delete key.
(Only for Professional and Ultra editions)
The animations are placed by dragging and dropping on the video. There you can move them. To remove an animation, you can either pull it out of the video or press the delete key.
(Only for Ultra edition)
Functions and control of VideoXT
The video window
Right mouse button: Open the menu
Left mouse button (double-click): Play the video
The window
Right mouse button: Open the menu
Left mouse button (double-click): Play the video
Left mouse button: Pause the video
The video border
Left mouse button: Resize or move the video
All functions and shortcuts of VideoXT are listed in detail in the supplied help.html.
Basic knowledge about advantages and disadvantages of video formats (several informations are from Wikipedia)
The media skills and capabilities are variable, depending on the internal encoder.
AVI is not equal AVI und MP4 is not equal MP4.

A container file or just a containe is a file, which can contain different files and file types.
The container determine primarily the file extension, but also the skills that the video will have later.
For example: The container MP4 can includ a DivX, XviD, MPEG-1, MPEG-2, MPEG-4, ..

Some encoders have difficulties with the frame by frame motion. A conversion into a different video format can solve the problem.

Digital container format
A container or wrapper format is a metafile format whose specification describes how different data elements and metadata coexist in a computer file. Among the earliest cross-platform container formats were Distinguished Encoding Rules and the 1985 Interchange File Format. Containers are frequently used in multimedia applications.
Since the container does not describe how data or metadata is encoded, a program able to identify and open a container file might not be able to decode the contained data. This may be caused by the program lacking the required decoding algorithm. By definition, a container format could wrap any kind of data. Though there are some examples of such file formats , most container formats are specialized for specific data requirements. For example, a popular family of containers is found for use with multimedia file formats. Since audio and video streams can be coded and decoded with many different algorithms, a container format may be used to provide a single file format to the user.

More information can be found in the provided help.
Copyright Information
© ECNT Germany. Errami Computer- und Netzwerktechnik. © VideoXT.
All rights reserved. The software VideoXT is a trademark of ECNT Germany. All our products, and the texts and images we've created are copyrighted and may not, without our written permission, used or distributed for commercial purposes.